Dear customers,
We would like to take the opportunity express our sincere appreciation for your business.
For your safe use of oil mist trap, we describe about a structure of the oil mist trap and clogging of a filter element once again herein below.
Structure of Oil Mist Trap
Oil mist trap is a filter that is attached to an exhaust port (exist side) of oil rotary pump, and that removes 90% of oil mist from pump oil, exhausted together with an exhaust air.
Oil mist returns to liquid oil when collected at filter, then collected liquid oil gets back to an oil tank of oil rotary pump.

Please note that oil mist trap and vacuum pump are not pressure proof structure.
When oil mist trap is continuously used with its internal filter element clogged pressure inside rises and oil mist trap may burst.
Clogging of filter element in use is subject to be caused by oxidation of oil. Clogging may occur more often when solid or air that promotes deterioration of pump oil is being inhaled.
Please carefully monitor its inner pressure for safe use and keep its inner pressure under 0.03MPa(G). Inner pressure is easily controlled by attaching pressure gauge as Figure 1 below. We have the pressure gauge as an option for oil mist trap.
Please refer to the instruction manual once more for detailed information.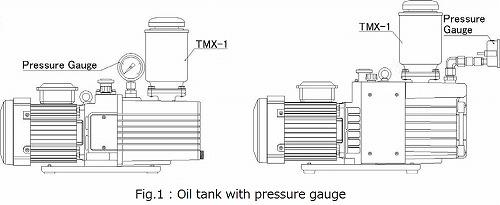 For further information
ULVAC, Inc. web_info