The ULVAC Group has made "Safety First" the fundamental principle of business management. By operating our Occupational Safety and Health Management System (OSHMS) focused on risk assessment, we endeavor to ensure safety of the products and services used by our customers and create dynamic workplaces where Group employees can work in good physical and mental health.
Approach on Occupational Safety and Health
In the execution of development, manufacturing, transport, installation, maintenance and other business processes, everyone in the ULVAC Group, from senior management to line workers, is encouraged to seize the initiative in continuously undertaking improvements placing the highest priority on safety, striving to maintain and improve the safety of everyone involved and ensure a healthy working environment.
ULVAC Basic Policy on Occupational Safety and Health Management System (OSHMS)
1. Compliance to the code/regulations, and implementation of risk assessment
Comply with Codes of Occupational Safety & Health Management and Rules according to ULVAC's OSHMS, and conduct Risk Assessment in order to perform Occupational Safety & Health Management activities with the help of all the employees.
2. Assure safety of ULVAC's products
Comply with ULVAC's standard for safety design and perform risk assessment of our products, in order to deliver our safe products and services to our customers.
3. Planned education about Occupational Safety & Health & Product Safety
For all the employees and contractor's employees, perform Occupational Safety & Health training based on ULVAC Safety Management system, while offering scheduled Product Safety training for our users.
4. Promotion of mental health care
Promote mental health care achieve a health, vigorous workplace environment.
5. Global expansion of ULVAC group
Through the Safety & Health promotion activities by the Global Safety Management Committee, we will try to create an appropriate work environment for the whole ULVAC group, and contribute to prosperity of our businesses.
Aiming for a Type-V Zero Accident Record
To ensure the safety and good health of its customers and employees, the ULVAC Group regularly holds meetings of the Global Safety Management Committee, and all Group companies promote safety and health activities in an integrated manner. Each Group company operates the OSHMS, and everyone is engaged in safety and health activities, such as management reviews conducted by the president and other executives and risk assessments performed by each employee.
In 2019, the Chigasaki Plant achieved a Type-V zero accident record (total of 15.7 million hours), the highest level provided by the Ministry of Health, Labour and Welfare. With "Safety First" as their motto, all Group companies will continue their efforts to extend the zero accident record.
Safety and Health Activities
In recent years, hazards associated with chemical substances have been attracting attention and laws have become stricter. ULVAC, Inc. provides special seminars to employees on chemical substances, covering key points of risk assessment and procedures for filing applications with the authorities, to prevent occupational accidents and ensure compliance with laws and regulations.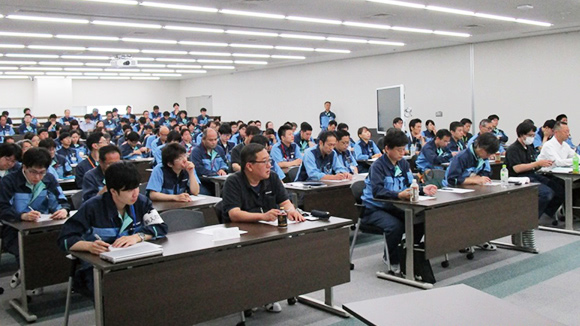 Special seminar on chemical substances