ULVAC, Inc. (Headquarters: Chigasaki, Kanagawa; President and CEO: Setsuo Iwashita; hereafter referred to as ULVAC) today announced to start selling the combined deposition and etch modules' system of cluster type which enable to equip with a variety of different process modules such as sputtering, etching and others on the same transfer core. The company has begun selling production systems incorporating the new technology.
For manufacturing process of advanced electronics, a wide variety of process such as deposition and fine pitch patterning combined together makes these devices and independent system is generally used for each process to make them.
This time the system ULVAC announced, Gemini, is to equip with a variety of different process modules on the same transfer core which makes reducing spare parts by adopting the same common parts as much as possible as well as improves usability with the same operation panel between these different modules. This improves further efficiency for manufacturing process of advanced electronics.
Overview of the Gemini series
[Features]
・Multi types of Sputter, Etcher, Asher&PE-CVD modules can be equipped.
・All types of above modules are made by ULVAC.
・Up to Φ300㎜ wafer is applicable.
[Applications](Examples follow)
・Power device   Seed & Metal layer Sputtering
・MEMS sensor   PZT Sputtering & Etching
・Opt. device    VCSEL Etching
・Packaging     Descum Ashing
・Communication  Insulated film PE-CVD and Etching
[Applicable wafer size]
 Gemini-200 series MaxΦ200mm
 Gemini-300 series MaxΦ300mm
[Transfer core]
 Square  Process Module Max 2 Chambers
 Hexagonal Process Module Max 4 Chambers
 Heptagon Process Module Max 5 Chambers
 *above core shape is for Φ200mm and for Φ300㎜ please contact us.
[Applicable equipped process module]
 Sputtering, Etching, Ashing, PE-CVD and others
 Each module is made by ULVAC
System photo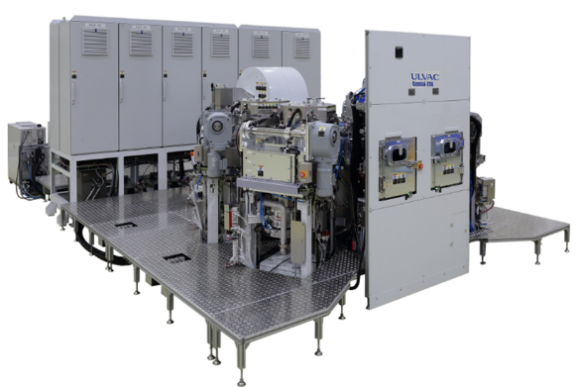 The combined deposition and etch modules' system of cluster type for advanced electronics Gemini-200
System configurations
Varieties of modules can be equipped(Examples follow)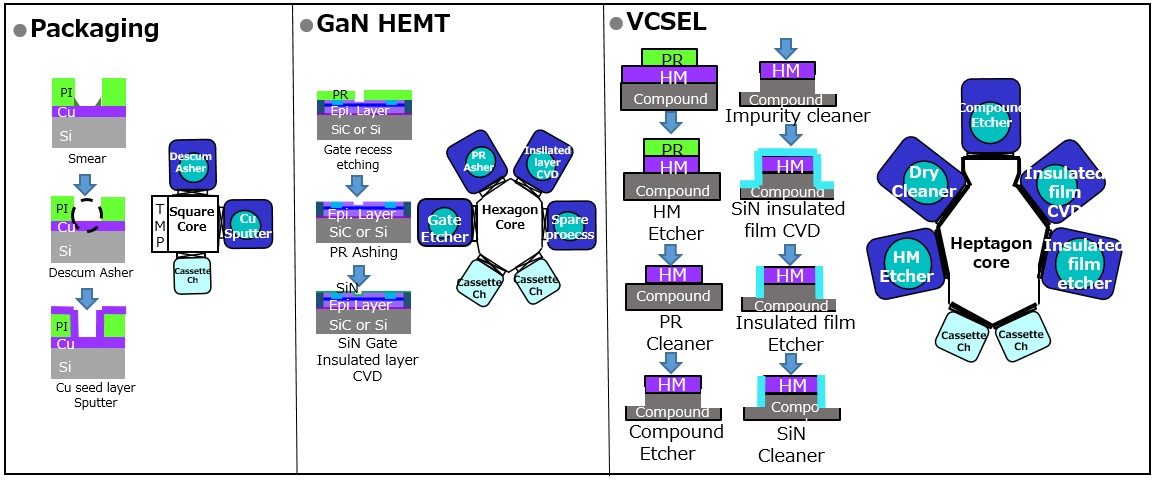 For further information

ULVAC, Inc. elec_info
Advanced Electronics Equipment Division TEL:+81-467-89-2139