ULVAC, Inc. (Headquarters: Chigasaki, Kanagawa; President and CEO: Hisaharu Obinata; hereafter referred to as ULVAC) is pleased to announce that the company will launch ELEC-RZ, a new type of high vacuum automatic transport robot for the high vacuum range, in October 2012.
[Background]
Semiconductor manufacturing equipment for sputtering, CVD, etching, and other similar purposes uses robots to transport wafers in vacuum. Robots are important devices and integral to ensuring the productivity of such manufacturing equipment. Therefore, such robots must be highly versatile in order to support a variety of manufacturing equipment and achieve high reliability at a low cost.
[Overview]
ULVAC is an all-around vacuum manufacturer which sells a variety of vacuum equipment and devices, including semiconductor manufacturing equipment. ULVAC has developed and commercialized this vacuum transport robot over a period of many years based on the experiences and achievements that we have accumulated as an all-around vacuum manufacturer.
ULVAC has reduced the cost of ELEC-RZ while improving versatility and reliability based on the achievements of our current products.
The new product, ELEC-RZ, has the following features:
1. For high vacuum application
A high vacuum range (10-6 Pa level) is supported.
2. High reliability
High reliability and durability have been realized based on the expertise that we have accumulated over many years.
3. Compact design
The product features a compact design, including, for example, a smaller actuator which facilitates mounting the robot onto semiconductor manufacturing equipment.
4. Various selectable arm option
Six types of arms with different strokes and turning radii are available. Most suitable arm is selectable depending on application.
5. Highly operable teaching pendant
The screen-switching teaching pendant facilitates teaching work.
6. Low cost
The cost has been reduced by more than 15% compared to that of our previous equivalent product.
[Photo]
ELEC-RZ, a high vacuum automatic transport robot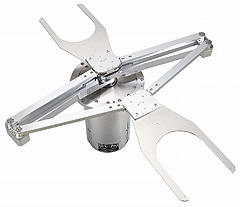 [Sales and future development]
ULVAC will launch the ELEC-RZ high vacuum automatic transport robot on October 17, 2012. Our annual sales goal is 20 units during the first fiscal year. The sales price is planned to start from 4.3 million yen.
For further information
ULVAC, Inc. Components Division compo_info