ULVAC, Inc. (Headquarters: Chigasaki, Kanagawa; President and CEO: Hisaharu Obinata; hereafter referred to as ULVAC) is pleased to announce that the company has developed and commercialized a new type of electron beam evaporation source for optical film deposition (an optical EB gun) to be called the EGP-1G. This product will be launched in November 2012.
[Background]
In tandem with globalization, which offers users a greater number of options, demand for cost reduction has been increasing recently. To respond to such demand, ULVAC has developed and commercialized the EGP-1G optical EB gun. EGP-1G is a low-cost product with a simple structure that adopts the 180° beam deflection method.
[Overview]
The EGP-1G, a new type of EB gun for optical film, employs a simple structure to adopt the 180° beam deflection method.
This new product has the following features:
1. All parts that are removed and re-attached during maintenance have a two-sided positioning structure.
2. The structure facilitates filament replacement and emitter removal and re-attachment.
[Photo]
EGP-1G, an EB gun for optical film deposition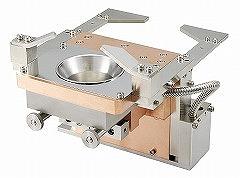 [Sales and future development]
ULVAC will launch EGP-1G in November. Our target customers are domestic and overseas vacuum device manufacturers; our offices in Japan as well as those of our overseas subsidiaries stand ready to comprehensively support our customers. Our sales goal is a total of 100 units during the first fiscal year. The planned sales price is 880,000 yen.
For further information
ULVAC, Inc. Components Division compo_info