ULVAC, Inc. (Headquarters: Chigasaki, Kanagawa; President and CEO: Hidenori Suwa) is pleased to announce the launch of the ENTRONTM -EX2 W300. The ENTRONTM -EX2 W300 has been designed based on the ENTRON™-EX 300-mm PVD system, which has successfully contributed to many semiconductor mass-production factories all over the world. Great improvement of mass-productive functionality of ENTRONTM -EX2 W300 in the field of multilayer wiring, gate metallization, and contact electrode formation processes will encourage better investment efficiency for all customers. Furthermore, ENTRON™-EX2 W300 has been developed under the concept of environmentally conscious design so that all components equipped in this system are RoHS-compliant parts throughout.
[Features]
1. Flagship model of ENTRONTM -EX series
The ENTRONTM -EX2 W300 is the flagship model of ULVAC's cluster tool-type, multi-chamber deposition systems designed for 300mm semiconductor manufacture. The ENTRONTM -EX2 W300 is also designed to correspond with further processes being developed for next and future generation semiconductors of such conventional PVD process and CVD/ALD process. The ENTRONTM -EX2 has two different aspects, 1) space saving and high throughput capability with single platform, 2) two-way process capability with tandem platform which enables to minimize the tool down time (parallel process operation).

The following functions have been enhanced in the ENTRONTM -EX2:
1) Standard integration system compatible with next generation and future generation systems
2) Throughput improvement through transfer time reduction.
3) RoHS-compliant, environmentally conscious system, standardized with energy-saving functions.
4) Better accuracy and higher speed of data transmission control, and automatization of such EES etc.
for advanced process requirement.
5) Various options and highly extendability.
2. PVD/CVD standard integration system compatible with multiple generation technology
The single platform type is capable of up to 4 process module chambers that include CVD and ALD and 2 exclusive module chambers. For the small exclusive module chambers, degassing, gas cooling, or anneal processing can be selected. The tandem platform type is capable of extending up to 8 process module chambers that include CVD and ALD and 2 exclusive module chambers.
System upgrades such DC/RF power supply retrofit, multi-gun sputter for ultra thin film, and CVD/ALD module's retrofit is easily modified in order to correspondingly match up to the clients' future process probabilities such future DRAM, Flash Memory, Non-Volatile Memory, Logic device.
Consequently, ENTRON™-EX2 W300 will be correspondingly adopted in multi-generations that bring all customers the cost effectiveness of the investment.
3. Higher throughput and reliability
The ENTRONTM -EX2 W300 has improved the throughput by 75% (compared to our conventional systems) through adoption of the following techniques: equipping with the new-type KEYTRAN-9Z-EX robot; optimizing the wafer change time; new EFEM; and optimized process recipes (software techniques). Consequently, ENTRON™-EX2 W300 has achieved a mechanical throughput of 175 wph. Transfer accuracy and its reliability have been improved through an adoption of transfer supportive techniques such AWC(Auto Wafer Centering), AWS(Auto Wafer Sensing), and IN-Aligner(Option) system.
4. Environmentally conscious with energy-saving functions
ENTRONTM -EX2 W300 is an environmentally conscious system and all components equipped are complied with RoHS standard which engaged reducing energy consumption by 30% from conventional tools through equipping an energy-saving components and software techniques. Sleep mode is optionally selectable which enhances more energy-saving while the system is under idle operation. ENTRONTM -EX2 W300 has control accuracy a single digit greater than conventional performance; the communication processing speed of control signals in the system have been made 10 times faster. In addition, the ENTRONTM -EX2 W300 provides, as standard, the EES (Equipment Engineering System) plug-in (output interface for detailed device data), which meets NGF (Next Generation Factory) requirements.
5. Variety of options and expandability
Variety of options, including the non-contact radiation temperature monitor, surface reflectivity measurement monitor, and compact RGA analysis monitor (Qulee), are available to maintain stable operation.
[Release and Sales plan]
ULVAC will officially start sales of ENTRONTM -EX2 W300 from April 2011. Although various functionality has been greatly improved, ULVAC is pleased to bring the price of ENTRON™-EX2 W300 in line with our conventional systems. Sales of 20 or greater systems in Japan, Asia, North America, Europe, and other countries or regions in fiscal 2011 are prospectively expected.
With the release of our new ENTRONTM -EX2 W300 model, ULVAC enhances and establishes stronger relationship with all customers through worldwide service support as a global semiconductor tool manufacturer.
The ENTRON™-EX2 W300 will be introduced at ULVAC's booth (Hall 3-701) at SEMICON Japan 2010, from December 1 (Wed.) to December 3 (Fri.), 2010 at Makuhari Messe, Chiba.
[ENTRONTM -EX2 W300]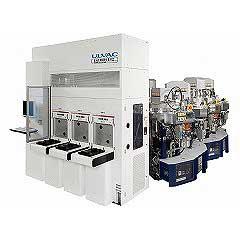 For further information
Semiconductor & Electronics Equipment Global Business Unit
semi_ info