ULVAC Inc. has developed new technology for freeze drying that renders liquids completely dry, through spraying under vacuum and has launched a fully packaged process line of sterile production, including powder filling and capping.ULVAC Inc. has developed new technology for freeze drying that renders liquids completely dry, through spraying under vacuum and has launched a fully packaged process line of sterile production, including powder filling and capping.Freeze drying technology is widely known in the pharmaceutical and food processing fields. In particular, pharmaceutical applications represent a large part of the market for freeze drying applications and is highly crucial for some of the sterile production processes.However, since a conventional shelf tier type requires vial, ampule and tray, those are exposed in open environment, at the vicinity of freeze dryer, and occasionally face problems of contamination by dust of conveyance to the process.Currently, hazard sterile products such as anti-cancer drugs are also processed by freeze drying, where highly controlled sterility and hazard compliance is required.Hence, in conjunction with development of spray freeze-drying technology, full packaged process line for sterile powder filled vials have to be integrated.

1. What is Micro Powder Dry(μPD)
This technology is that the sprayed liquid is frozen in vacuum chamber and formed as frozen powder and the frozen powder is the dried in vacuum.Although there were other similar ideas, so far these have not been made practical because of problems such as freezing of the nozzle, melt of liquid on nozzle, and the long drying times.This brand-new technology has achieved shortening of drying hours and high recovery efficiency through the development of a specially designed nozzle, vacuum chamber construction, and a heater and recovery unit.Various types of international and domestic patents are pending.

2. Merit of Micro Powder Dry
Direct spraying in a vacuum chamber achieves to eliminate density distribution because instilled liquid is immediately frozen.Further, the particle size can be controlled because the special spray nozzle achieves continuous instillation without freezing of nozzle tip.The formed particles with Micro Powder Dry technology are shaped as porous spheres.(Picture-1,2)Depending on nozzle type and feed conditions, the particle size can be varied from 10μm order to 100μm order. Production capacity can be also varied by the number of nozzles.Particle size is highly uniform and can be precisely controlled. Further, it can be easily melted into a liquid.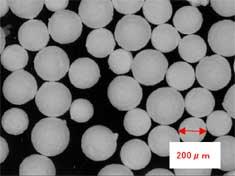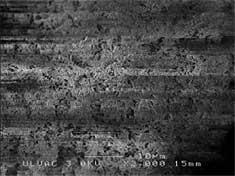 Picture-1 : Microscope picture Picture-2 : SEM picture of surface
3. Fully packaged freeze drying systems for sterile drug process
Now, ULVAC has released a fully packaged process line together with development of μPD technology.This system consists of μPD as core unit, dosing process, filling and capping process.Conventional systems produce freeze dry bulk with shelf tiers in a freeze dryer which then goes through a milling process, classifying and mixing. Conventional conveyor systems are used after powder filling and the vicinity of freeze drying is complicated and hard to be automated. Therefore, handling by humans is a common method and sterile assurance and hazard pollution is problematic.Moreover, conveyance of materials is potential risk of contamination. μPD completely solves these problems and enables the configuration of a fully packaged process line for dosing, freeze drying, filling and capping.

4. Released lineup
Two types of system have been released. μPD400 is for R & D and small volume production, and μPD2000 for mass production.This system is a completely new process and produces precision particle control. Applied and potential areas will be rather wide.ULVAC foresees to apply this method to not only pharmaceuticals, but also food process, fine chemicals and electrical materials.In this point of view, μPD400 will be utilized for wide ranges of R & D. μPD2000 is designed to tentatively focus on pharmaceuticals. New design lineups will be released to apply to other fields.

5. Applications
1) PharmaceuticalsSterile drug (antibiotics, vaccine, anticancer, blood products)Other drugs (tablet, powder medicine, capsule, skin patch, inhalation)
2) OthersFoods, health care products, cosmetics, electrical materials and other

6. Price
μPD400: 38 million Japanese Yen (Domestic standard, μPD400only)μPD2000: 200 million Japanese Yen (Domestic standard, μPD2000 only)
300 million Japanese Yen (Domestic standard, full packaged system)
7. Forecast
μPD400 2010:5 sets, 2011:6 sets, After 2011:10 sets/yearμPD2000 Several lines will be delivered by 2012.

8. Schedule
1) Sampling test is available at Chigasaki Headquarter.
2) We will introduce Micro Powder Dry system at ULVAC booth (No. 22-24) of Interphex JAPAN at "TOKYO BIG SIGHT" from Jun 30(Wed) to July 2. Technical seminar will be also held at 16:20-17:20 on Jun 30(Wed), Conference room EXP-1.

For further information
ULVAC, Inc.Industrial Equipment Division ind_info