ULVAC, Inc. (Head Office: Chigasaki, Kanagawa Prefecture; President: Setsuo Iwashita; hereafter "ULVAC") and Tokyo Institute of Technology (Main Campus: Meguro, Tokyo; President: Kazuya Masu; hereafter the "Tokyo Tech") established the "ULVAC Advanced Technology Collaborative Research Cluster" on the Ookayama Campus of Tokyo Tech on Wednesday, September 22, 2021.
ULVAC and Tokyo Tech have achieved results through individual research cooperation, but to further strengthen the collaboration between the company and the university as organizational partners, we set up a collaborative research cluster on Wednesday, September 22, 2021 at the Ookayama Campus with the support of the Tokyo Tech Open Innovation Platform. After exploring joint research projects with several laboratories, we have decided to collaborate with Associate Professor Hiroshi Akatsuka on plasma diagnostics technology and with Professor Itsuo Kumazawa on AI technology as the initial research topics.
Production equipment equipped with AI technology is becoming essential, even for vacuum equipment. However, even with the use of AI technology, improvements to device performance are limited by the data that can be gathered today, making new technology essential for creating more powerful devices. Although plasma-based processes are often used in vacuum equipment, direct measurement of the plasma state and its feedback to the process is rarely carried out. By combining the Tokyo Tech's plasma diagnostics technology and AI technology, the Collaborative Research Cluster aims to improve the performance of plasma processing equipment by measuring plasma conditions that could not be measured before. The synergy created by laboratories from different fields working together is expected to produce new research results that cannot be obtained through individual collaborative research.
Additionally, leveraging this organization-to-organization collaboration will lead to a wide range of positive outcomes, not only in joint research but also in fields such as personnel development, leading to the advancement of future growth for both ULVAC and Tokyo Tech.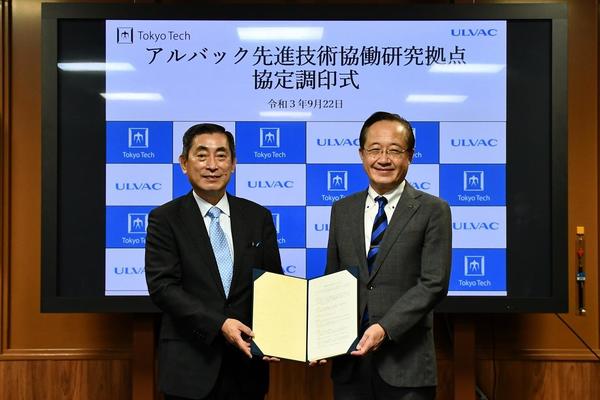 From left to right: Setsuo Iwashita, President and CEO of ULVAC; Kazuya Masu, President of the Tokyo Institute of Technology
Collaborative Research Cluster Outline
Name :
ULVAC Advanced Technology Collaborative Research Cluster
Location :
Ookayama Campus, Tokyo Institute of Technology,
Room 412, 4th floor, North Building 1,2-12-1, Ookayama, Meguro-ku, Tokyo, Japan
Collaboration period :
9/22/2021 - 9/30/2026
Research title :
Research on the improvement of vacuum equipment performance
Director :
Hiroshi Akatsuka (Associate Professor of Laboratory for Zero-Carbon Energy, Institute of Innovative Research, Tokyo Institute of Technology)
Deputy Director :
Junya Kiyota (General Manager, Institute of Advanced Technology, ULVAC, Inc.)
(※)About the Tokyo Tech Collaborative Research Cluster
In order to "stay close to companies' needs" the Collaborative Research Cluster has established a Research Planning Office within the center for the purpose of creating a place for sustainable collaboration, to both explore existing topics and develop new ones.
Exterior view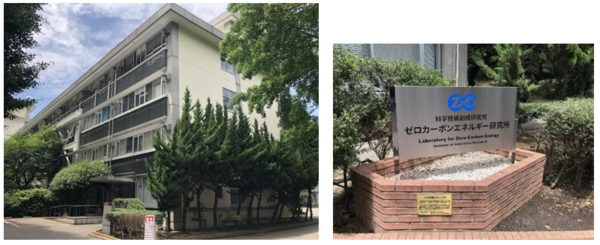 External Links (※)References
For further information
 ULVAC, Inc. web_info