Maintenance for Component

Pump Maintenance Service
We offer a huge variety of pump maintenance services.

Large-size Vacuum Pumps (Rotary, Diffusion, Dry) : Maintenance
Small-size Vacuum Pumps (Wet, Dry) : Overhaul / Maintenance
Cryopumps : Overhaul / Maintenance
*Service is different depending on the kind of the pump, and inquire in detail, please.
JCSS Calibration Service (Vacuum Gauge)
Standard Calibration Lab. in Components Division of ULVAC, Inc. is accredited as a Calibration Lab. of pressure category (Vacuum Gauge) by JCSS/MRA (Japan Calibration Service system ; accreditation regulation is based on ISO/IEC 17025)  Our Calibration Lab. provides international Quality and Ability of calibration results. We also provide JCSS calibration service for all the vacuum gauge not only our product but also other brands.
If you need our JCSS (ISO/IEC 17025)-compliant calibration services, we serve world-wide compliant calibration certificates with the JCSS/MRA mark.
Our products are inspected by the reference standards calibrated by JCSS followed by ISO 9001.

※JCSS:Japan Calibration Service System
※MRA:Mutual Recognition Agreement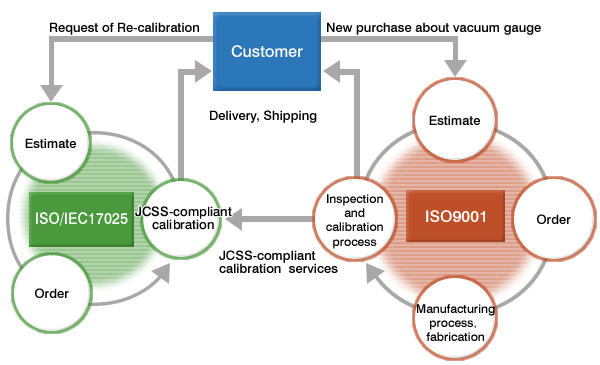 JCSS Calibration Specification
The JCSS Calibration Service of Vaccum Field
Order or Request of JCSS calibration service
JCSS is the accreditation symbol of Japan Calibration Service under the Measurement Law. Standard Calibration laboratory of Component Div.in ULVAC,Inc.is accredited by JCSS and authorize thorough the internation ally-accepted MRAs.JCSS 0258 denotes an accreditation number of our laboratory.

about JCSS:
International Accreditation Japan (IA Japan)




(Sample click PDF:1.5MB)
Termination of Production and Maintenance
This is to disclose information such as the termination of sales and production of our company's products, upgrades, maintenance, etc. Please contact us using the address found at the end of each guideline.
Termination of Production and Maintenance