ULVAC Solutions for Touch Screen (Touch Panel)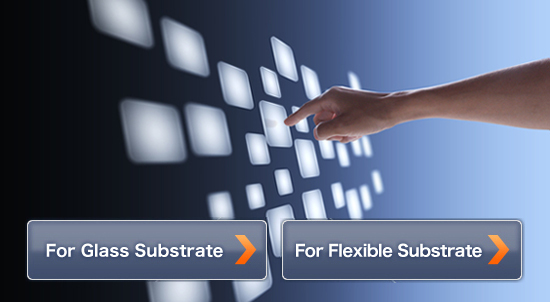 Today's booming touch screen market is being accelerated by the advent of a myriad of highly functional products like smart phones, tablet PCs and digital home appliances. We, ULVAC, provide manufacturing equipment for touch screens employing either capacitive or resistive technologies, the two main technologies driving the industry forward. We have delivered countless innovative manufacturing solutions including sputtering and inkjet technologies that realize every breakthrough with reliability, durability and productivity.
What is the "Touch Screen" ?

Application of Touch Screen Technologies

The Touch Screen Technologies have already utilized in Smart-phones, Tablet PCs, etc. These technologies are widely applicable for new fields.



What is the "Touch Screen" ?

A Touch Screen is an visual display that can detect the location of a touch by finger or pen.

There are a variety of Touch Screen technologies, in particular, Resistive, Capacitive, and also Surface acoustic wave technologies often used.



Structure of "Touch Screen"

Upside and lower conductive films get in contact when pushing it by finger or pen.

As the finger is an electrical conductor, touching the surface of the panel results in a change in capacitance .
Our Solutions for "Touch Screen"