Sputtering Targets
Sputtering Targets for Photovoltaic Applications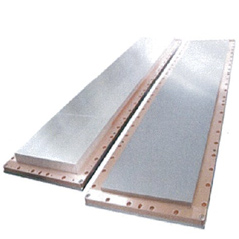 Sputtering Targets for Total Material Support of Thin Film Solar Cell Manufacturing Equipment
Besides promoting widespread use of its turn-key or "ready-to-go" thin-film solar cell manufacturing equipment, ULVAC also provides sputtering targets made from materials ideal for passivation, buffer and electrode layers in amorphous silicon solar cells and compound semiconductor (CIGS) solar cells. ULVAC responds to needs for transparent, electrically conductive films widely used not only in solar cells but also in FPD and touch panels. It provides for example, GZO and AZO thin films using zinc that is a plentiful resource compared to ITO by utilizing an all-inclusive integrated system ranging R&D, to production engineering, and global supply.
Ultrasonic defect testers ensure meticulous quality assurance!
ULVAC has installed large ultrasonic test equipment to make meticulous defect inspections of materials and bonding inspections. Using this equipment has helped ULVAC drastically cut down on arcing during sputtering and deliver high quality targets.
High-reliability metal bonding technology
Large sputtering targets are very heavy so technology for bonding to a cooling plate (backing plate) is extremely important. ULVAC has installed bonding equipment to support deposition of larger glass substrate, and realized an all-inclusive target supply system.
Low-particle targets
Attaining high uniformity by adjusting the metal microstructure
Targets for Solar Cells
| Materials(Purity) | Main Application |
| --- | --- |
| AZO (3N-) | Transparent conductive films |
| GZO (3N-) | Transparent conductive films |
| Ag (4N) | Reflective film electrode materials |
| Ti (3N-) | Electrode material protection films |
| Al alloy (5N) | Wiring materials |
| ITO (4N) | Transparent conductive films |
| Cu (4N) | Precursors |
| In (4N) | Precursors |
| CuGa (-35wt%Ga) | Precursors |
| Si (5N-) | Passivation films |
| SiO2 (4N) | Passivation films |
| Mo (3N) | Electrode materials |
| ZnO (3N) | Transparent conductive films |
Recycling of Sputtering Targets
At ULVAC, resource recovery, recycling and reuse of valuable rare metals are implemented in a proactive manner to pursue efficient use of sputtering targets.