High Performance Materials
Columns [Ta] [Nb] [Zr]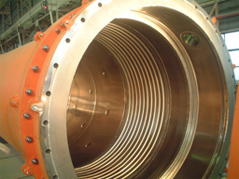 External appearance of Zr lining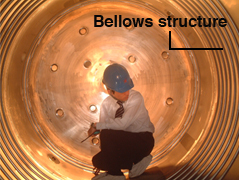 External appearance of Zr lined mirror
ULVAC's columns make full use of lining techniques, and offer excellent cost performance.
Thermal stress is taken into consideration and the structure can endure repetitive long-term operation at any temperature—from very high temperatures to room temperature.
The plates of the columns are thinner than those made using the explosion clad method, which allows cost reductions.
The structure is capable of withstanding a vacuum state.