High Performance Materials
Coating [Ta] [Nb] [Zr] [Ti]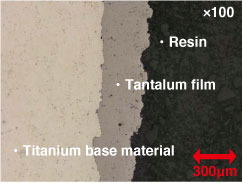 Thicknesses: approx. 300 to 1000µm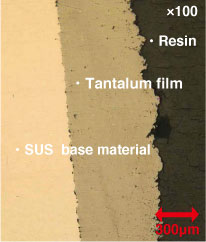 Thicknesses: approx. 700 to 800µm
ULVAC has developed a new coating technique for applying a thin coat of Ta.
Using this technique, Ta coating can be provided at low cost for devices needing resistance to corrosion, heat, and abrasion.
Can be processed at low temperatures
Uses less tantalum
Allows manufacture of films with strengths of 1N/mm2 or more and thicknesses of 100 to 1,000 μm, which have a resin porosity of 95% and resistance peeling at hydraulic pressures of 7.0 to 8.5 MPa
This new coating method allows even 100 μm to be applied in in pipe construction
Applicable to outer face of pipe
Thickness can be chosen freely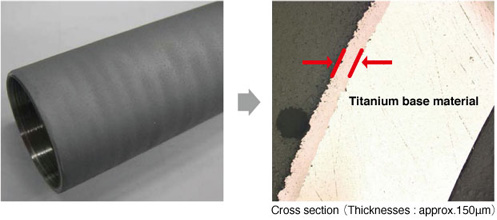 Applicable to curved inner face
No significant film peeling found

In-house tests were conducted with 20%H2SO4 at 100C for one hour.