ULVAC Solutions for µPD (Micro-Powder Dry) system
"Leading Edge Process for Lyophilization"


The powder that is obtained using conventional lyophilization technologies, such as a freeze-drying and a spray-drying, presents problems like differences in concentration, low solubility, and inhomogeneity.
We, ULVAC, have solved those problems, utilizing the technology that renders liquids directly dry. Then, we also incorporate a fully packagedprocess system for sterile production including powder filling andcapping. Apply to not only pharmaceuticals, but also food processing,fine chemicals and electrical materials.



Basic Principles of µPD
Utilizing Sublimation

Sublimation that is the process of immediate transition of a substance from the solid-state to the gas-state, is utilized in µPD. Therefore, spherical shape powder by self-freezing in air under vacuum is obtained, so that the process of µPD is an epoch-making one as a novel lyophilization technology.





Main feature

The µPD has the unique technologies that consist of a water particle generation, a self-freezing and others.




Sprays stock solution using a special nozzle.

Self-freezing occurs while falling.

Shelf heated to dry.
Advantages in Using µPD System



[1] Small particle sized and homogeneous powder production

High speed drying due to larger surface area of frozen material causes a very sharp profile of particle size distribution and no concentration gradient of powder. It means that these particles have high uniformity in particle size and very homogeneous concentration of powder by freezing from liquid droplet.




(Movie File:4.8MB)
[2] Marked reduciton in the manufacturing process

Additional production process like milling, classifying, etc. can be reduced.
Furthermore, very few loss and high process yield are carried out. Micro Powder Dry requires only 4 processes, a 6 process or 60% reduction from the conventional 10 processes. This significantly reduces initial running costs and maintenance costs.



[3] Superior Solubility

High speed drying due to larger surface area of frozen material, contributes to superior solubility.



Our Products
Line Up of µPD Series

The µPD Series are the refined equipment using self-freezing in practical applications.






[Specifications]

Equipment for
Mass-production
Compact Equipment
for Experiment
Model
µPD2000
µPD400
Particle size
100 to 400µm
Capacity
150L / Batch
5L / Batch
Shelf temperature
control range
-50 to 60℃
-40 to 60℃
Vacuum control range
5 to 30Pa
Cold trap temperature
-65℃
-60℃
Required space
[mm]
5600W x 8200L x 6800H
1600W x 2150L x 3300H




Turn Key System
Closed system of sterile pharmaceutical production is realized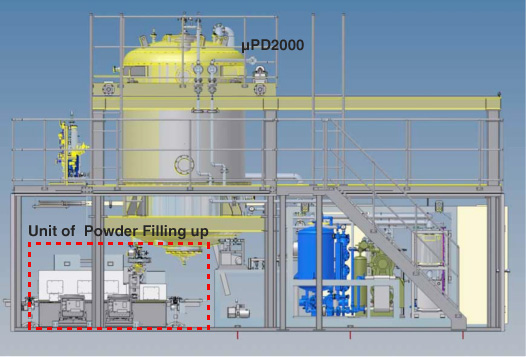 Unit of Powder Filling up

[Specification]

Particle size
200 to 300µm
Vessel
φ24.3[vial-bottle]
Tact speed
2vials/(min・head)
*100mg-filling up
Filling up volume
100 to 1000 mg
Accuracy
±0.5%
Market
One of the most important application utilizing µPD is the sterile pharmaceutical production.

Turn key system of µPD has been constructed aiming at advance into Global Market.

Those technologies which contribute to novel pharmaceutical production using extremely small sized powder, are applied for not only conventional freeze dry processes(Lyophilization)but also general splay-dry and vacuum-dry ones.

The µPD technology is also applicable for Health care materials, Foods, Cosmetics, and Electronic material productions as well as pharmaceutical one.