ULVAC, Inc. (Headquarters: Chigasaki, Kanagawa; President and CEO: Hisaharu Obinata; hereafter referred to as ULVAC) is pleased to announce that the company will launch the ceramic ball bearing type turbo molecular pump, UTM300B with 280L/s pumping speed on October 1st, 2014.
[Background]
Turbo molecular pump is utilized to make high and ultra high vacuum environment in various markets from R&D or mass production line. ULVAC launches the ceramic ball bearing turbo molecular pump, UTM300B, in addition to the existing line-up, small size pivot bearing type, medium and large size magnetic levitation turbo molecular pumps, to meet to the requirements such as free mounting orientation, more compact design, smaller size backing pump, etc in the trend of diversified applications of turbo molecular pumps.
[Overview]
The UTM300B is the ceramic ball bearing turbo molecular pump with 280L/s pumping speed. The size of this new pump is compact by integrated controller design. There is no limitation in mounting orientation. Excellent high backing pressure performance allows you to select smaller backing pumps.
[Features]
Following are the UTM300B's features:
1. No limitation in the mounting direction.
2. Integrated controller to the pump body reduces cable length and downsize pumping system.
3. Advanced mobile cart
High compression ratio made it possible to run the pump at high backing pressure and downsize its backing pump.
4. Inlet port flange is selectable from VG100, ICF152, and ISO100-K.
5. Noise level at the no load is 50dB or less (with ISO-100K flange)
6. Applicable standard CE and NRTL.

[Photos]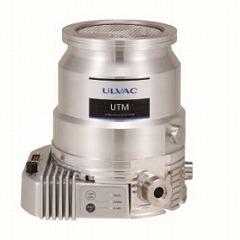 UTM300B ISO100-K flange-type
[Sales Target and Price]
List price range: 1,200,000 to 1,300,000 Yen
Sales target of the first year: 100 units
For further information
ULVAC, Inc. Components Division compo_info